Your Father of the Bride Speech Made Easy...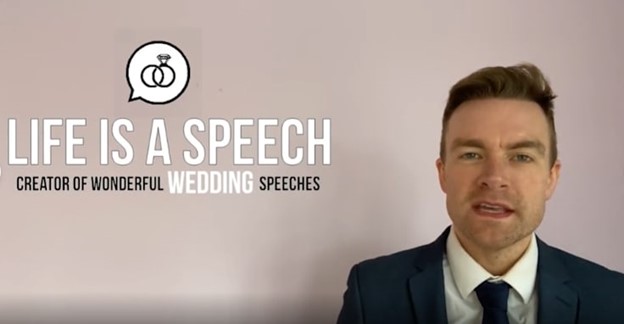 I will write a great Father of the Bride wedding speech for You
Enter a new chapter! Connect with your child and give credit for their role in your life. This speech is important to you, and with my help, you can make sure your moment in the spotlight is something to be remembered, especially by your child.
It's so easy...
Hi, I'm Richard and I will craft a thunderous and hilarious Father of the Bride Speech. Do you want to be the guy everyone comes to at the end to tell you what an amazing speech that was? If so, order with me...
It's so easy...
1)   Contact me to tell me what you're after or just order the package you'd like. You'll receive some simple questions, so I can get going...
2)   I work away delivering my secret ingredients to the speech.
3)   You amaze everyone with a cracking speech and be the talk of the wedding. Saving you time and worry.
Your Father of the Bride speech will be big laughs, tender moments, and a thrilled Bride and Groom. Every speech I craft has just the right balance of memories that are personal to you.
I've written, acted, and performed professionally for over 20 years, 500+ speeches, and EIGHT years on Fiverr.  You only need to see my reviews and video to see you've got the right guy for the job...
See For Yourself What These Very Happy Customers Have Had To Say!
---
"Richard did a great job on my father of the bride speech - he took into account everything I requested and I can't wait to deliver the speech. I love how it turned out and I couldn't have written a speech like that myself - I'm certain my guests will love it too. Richard was very easy to work with, responded to questions very quickly and made revisions in a timely manner. If I ever have a need for another speech, I will definitely consider Richard. Great job, Richard and a big THANK YOU!!"
B. Desatnik 
USA
"Speech as a Father of The Bride. Make me nervous and need help. Don't know what to expect from this site as I am first time using it. I don't mind to pay, just don't want to be a sucker. I am happy and now move on to practice my speaking for this function."
Roman Kan 
Canada
---
---
Let Richard craft for you a UNIQUE tribute speech with GREAT memories, emotion, & warm words that will TRIUMPH over everyone. 
Acting Today will ensure you have NO REGRETS when you look back on the wedding day. 
---
---